Help Your Car Perform Like New with the FOX Toyota of El Paso Service Department, Proudly Serving El Paso, Fort Bliss, Socorro, Horizon City and Anthony NM
Like anything else you own, your car will perform better when it's properly cared for. An essential part of taking care of your Toyota: routine maintenance. Keeping up with the service schedule in your owner's manual ensures your Toyota Camry, Corolla, Tundra, Tacoma or Sienna will run efficiently and safely. Call us anytime (915) 598-0399
Because so much work goes into caring for your car, FOX Toyota of El Paso maintains an onsite auto service and repair department, staffed with mechanics that are trained to know Toyota models, specifically. They're also equipped with the same Toyota parts that are used to assemble your car, meaning you can count on like-new performance when you drive your car home.
As for what we can do for your car: that's up to you. Simply fill out our online appointment form to let us know what your car needs. Whether you're looking for something simple like an oil change or you need us to inspect your brakes, we're ready to help you get the most out of your Toyota. We offer free WiFi in our comfortable waiting lounge so that you can relax during your visit. If you can't stay, our complimentary shuttle can take you where you need to go.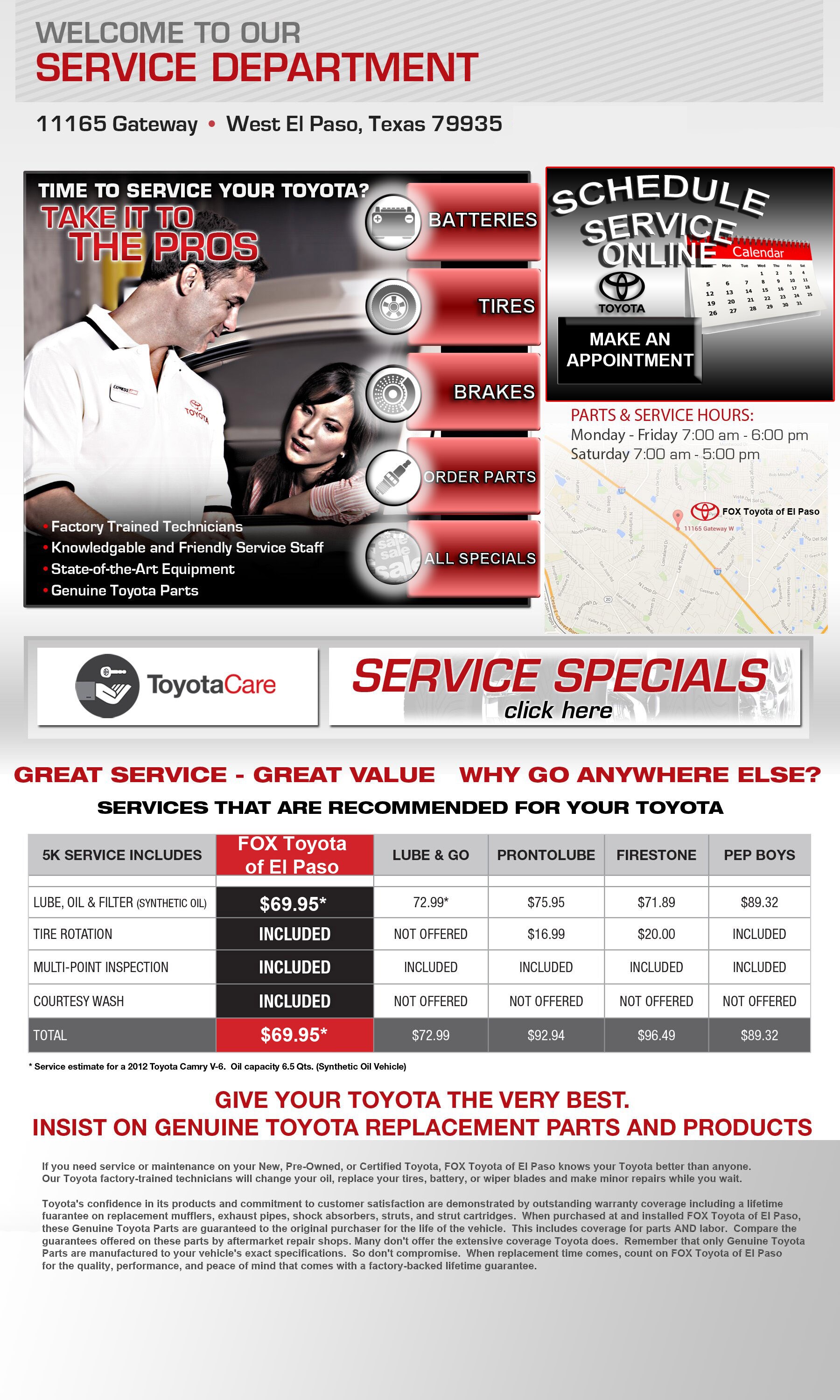 Located in El Paso, TX. Our Toyota service department offers convenient service hours, a comfortable waiting area.  Coffee and refreshments are always complimentary. We have a covered service drive so you have comfort and convenience no matter what the weather.

At FOX Toyota of El Paso, factory-trained and certified technicians will fix it right the first time. In addition to passing the rigorous Toyota Certification Program, many of our technicians are also certified by the National Institute for Automotive Service Excellence (ASE) and they use state-of-the-art equipment and tools designed especially for your Toyota as well as genuine Toyota Parts that are designed to keep your vehicle working at Toyota's high-quality levels.

Helpful Hints for Toyota Owners
*    The most important thing you can do to keep your Toyota running well is to change the engine oil on schedule.

*    Replace worn out wiper blades will ensure that you have a clear view of the road under all conditions.

*    Periodic brake inspections at regular intervals according to your Toyota's recommended maintenance schedules insures longevity to components and safe brake performance.

*    Keep an eye on tire pressure - losing just a few pounds of pressure in your tires can hurt fuel economy and shorten tire life.

*    Read your Toyota Owner's Manual. It will tell you everything you need to know about your vehicle.

Tires
We recommend that tires be rotated every 3,000 to 5,000 miles even if they don't show signs of wear. Tire rotation can often be done with oil change intervals while the vehicle is off the ground. This can also be a good time to have your tires rebalanced. It's also a good time to inspect the tires for any damage, remove stones or debris from the tire treads, check for uneven wear by checking the tire tread depth and of course, checking your tire pressure.  It is an advantage when all four tires wear together because as wear reduces a tire's tread depth, it allows all four tires to respond to the driver's input more quickly, maintains the handling and helps increase the tire's cornering traction.
Air Filters
Genuine Toyota Air Filters are engineered specifically for your Toyota to provide exceptional filtering efficiency, improved engine performance, and noise-dampening capabilities. They trap dirt and contaminants before they reach your engine, where they can cause wear and reduce performance.  Replace your engine air filter every 30,000 miles or 36 months. If you operate your Toyota under special operating conditions, we recommend inspection every 15,000 miles or 18 months.
Synthetic Motor Oil
Today's sophisticated engine systems require a lubricant designed specifically for improved engine performance, increased fuel efficiency and reduced engine deposits. Many new Toyota models are certified for a new zero weight synthetic lubrication standard (SAE 0W-20).  Our 0W-20 oil is low-viscosity synthetic oil formulated to provide uniform lubrication and reduce friction throughout the engine. Lighter than conventional engine oil, 0W-20 evenly and uniformly bathes your engine's moving parts, which means less wear and tear, better thermal stability and increased engine efficiency.
Need Parts?
FOX Toyota of El Paso is a distributor of Factory-Certified Toyota Parts and Accessories.   Genuine or "OEM" Toyota parts are specifically designed to provide the safety and service life you expect from Toyota.  Genuine Toyota Parts - Don't settle for less.  The FOX Toyota of El Paso parts department is at the same location as our service department and offers: Convenient Hours, Genuine Toyota Replacement Parts and Toyota Factory Accessories. We look forward to serving you.